Spring 2014
Making a an absolute statistical statement regarding Vermont's racial demographics is difficult, however a well excepted ball park figure, based on the 2012 census, now three years old, is that Vermont's population is 95%  White.  In 2004, the estimated White population was 97% and in 1990 it was 99%.  Therefore, even though Vermont remains one of the whitest states in the United States minority population has increased five times in the last 23 years.
As Vermont's population becomes more diverse not only does the "look" of its citizenry change, but customs, mores, and people's life experiences change as well.  Such changes affect many aspects of daily life, not just for newcomers but also for all Vermonters.  As related to housing changes specifically, these might include, an increase in the number of intergenerational households sharing housing units thus affecting occupancy numbers; a wider variety of the types of foods including new aromas and preparation methods; and a need to use an interpreter in negotiating leases or rules of a property.  The list of potential situations is long and constantly changing.  Taking a "that's-the-way-I –have-always-done-it" approach may not be an affectiveone, especially as these issues relate to fair hosuing laws.
Fair housing laws protect certain segments of our society from adverse housing actions because of a person's membership in a protected class.  Race, color and national origin are the obvious classes affected by changing demographics under fair housing law.  Less obvious but also impacted by changing demographics are issues such as  family size and make up, source of income, and religious creed.
Unfortunately, today in Vermont prejudice and stereotyping still exists based on race, color and national origin.  A recent study by Vermont Legal Aid compared rental housing providers' treatment of white American renters against that of African American and foreign origin renters.  In the rental inquiries comparing treatment of white Americans against renters of foreign origin, 44% of the results demonstrated that the housing provider engaged in disparate treatment against the renter of foreign origin—either through blatantly discriminatory remarks or actions made against the renter of foreign origin or through demonstrating preferential treatment towards the white American renter.  The rental inquiries examining treatment of African American renters also showed significant levels of discrimination.  Thirty-eight percent of these rental inquiries demonstrated similar disparate treatment against the African American renter or preferential treatment to the white American renter.
An earlier study also conducted by Vermont Legal Aid found similar results.  "Between 2012 and 2013, Vermont Legal Aid conducted 286 paired rental tests, and 10 accessibility audits (measuring compliance with accessibility standards required under the Federal Fair Housing Act).  Testing results indicate that housing providers disfavor African American renters, renters of foreign origin, renters with children, and renters with disabilities, and they favor white renters of U.S. origin without an apparent disability or children.  The results reflect preferential treatment toward the white U.S. renters in 45% of the familial status tests, 44% of the national origin tests, and 36% of the race-based tests.  In 22% of the tests conducted on the basis of disability, housing providers indicated preferential treatment toward the renter without an apparent disability, and in 80% of the accessibility tests conducted, some level of noncompliance with FHA accessibility requirements was found. Paragraph from Justice Quarterly, March '14:  The full Rental Discrimination Report will be available in April on our website.
Landlords are in the business of providing housing to those who need it.  A critical requirement for engaging in the business of renting housing is to know and understand fair housing laws. Fair housing laws can be complicate so it is as important for landlords and property managers to understand fair housing laws as it is to understand any other laws relating to renting or managing property. There are several organizations that can provide fair housing training for landlords and property managers.  Feel free to contact Ellen Maxon for more information regarding fair housing training for individuals or small and large organizations..
The Vermont Human Rights Commission (VHRC) has closed ten (10) fair housing complaints since September 2013.  No cases resulted in "reasonable grounds" findings.  Four (4) complaints were settled with a predetermination conciliation agreement (PDCA) between the parties; three (3) cases were "no reasonable grounds" determinations: and three (3) cases were withdrawn or administratively dismissed.  In addition settlements were reached in two cases in which the VHRC had previously determined that there were reasonable grounds to believe that discrimination had occurred.  The four (4) PDCA cases are summarized below along with the settlement for the two (2) post determinations.
Private Tenant v. Private Property Owner
The parties entered in to a pre-determination settlement agreement.  The charging party alleged that the landlord  raised her rent in an effort to make the unit unaffordable to Section 8 voucher users; revoked privileges previously afforded her; and, asked her to vacate the unit.  In order to resolve this issue the landlord paid the tenant $1250 to cover her moving and other expenses.
Private Tenant v. A Housing Authority and Management Company
The tenant alleged that the property manager accessed a pet fee for her assistance animal and waive it when the tenant pointed out that her animal was not a pet but an assistance animal.  The property management company waived the pet fee and paid the tenant $1000.  Additionally, the staff at the housing authority attended fair housing training.
Private Tenant v. Condo Owner's Association
Condo owner alleged that the condo association board treated her differently than white condo owners.  Specifically she alleged that the board did not respond to her concerns in a timely fashion because of her race and color.  The condominium association agreed to refund $589 for out of pocket expenses involving landscaping matters.  Additionally, the association's board agreed to clarify its outside maintenance procedures, including informing the tenant when service people would be on the property.  Finally, the board agreed to keep the tenant informed of correspondence it has with the city review board concerning issues related to this complaint..
Condominium Owner v. Condominium Board
The complaintant, a person with a breathing and heart disability, made a reasonable accommodation request to his condominium board.  He requested that a parking place be assigned to him that would eliminate one of the three flights of stairs he otherwise had to climb to reach his unit.  The condominium board declined his request.  The board reasoned that, because its bylaws and rules state that parking spaces are assigned sequentially for everyone, the board did not have to alter or switch their assignment method due to the reasonable accommodation request.  After providing the board with some fair housing training, the board understood that they needed to grant the complainant's reasonable accommodation request for a parking space.  The board found another condo owner who agreed to switch her assigned place with the complainant.  In a settlement agreement, the board then assigned the new parking space to the complainant.
Private Tenant v. Private Landlord
The tenant alleged that the landlord refused to allow a reasonable modification to her rental unit and increased her rent to a level that she would no longer be able to afford the rent using her Section 8 voucher.  The parties settled this complaint when the landlord agreed allow the tenant saty in her unit for another six (6) months and agreed to not increase her rent during those six months.  The landlord also agreed to provide a positive reference for the tenant and attend fair housing training.
Post Reasonable Grounds Determination Settlements
Lambert v. John Larkin Realty d/b/a Smart Suites - HV13-0023 and
Lambert v. John Larkin Realty d/b/a Smart Suites - HV13-0026
Two private tenants filed separate discrimination complaints with VHRC against John Larkin Realty d/b/a Smartsuites alleging they had been discriminated against based on their disability.  The main issue of the complaints related to improperly marked accessible parking spaces that resulted in tenants with mobility disabilities not having access to accessible parking spaces.  In addition, the investigation found that when the tenants complained to the staff about the improper markings and people without parking placards using the accessible parking spaces, the staff did very little to resolve the matter.  The staff also failed to engage in an interactive process with the tenants regarding their reasonable accommodation request to mark the spaces or monitor the parking lot.
After a reasonable grounds findings in both cases the individual tenants resolved their individual claims through mediation and the staff agreed to attend fair housing training and make changes to their accessible parking policies and procedures, including properly marking the accessible parking spaces.
Making a Complaint
Persons who believe they have experienced discrimination may file a complaint by contacting HUD's Office of Fair Housing and Equal Opportunity at (800) 669-9777 (voice) or (800) 927-9275 (TTY).  Housing discrimination complaints may also be filed online or by downloading HUD's free housing discrimination mobile application, which can be accessed through Apple devices, such as the iPhone, iPad, and iPod Touch.
New England
Fair Housing Enforcement Office (FHEO) Region I signed a conciliation agreement with a $60,000 settlement for an elderly complainant.  On November 15, 2013, Region I approved a conciliation agreement for Reese v. Pilgrim Towers, Inc.  Complainant alleged that she was being evicted on the basis of perceived disability. The Connecticut Fair Housing Center, a Fair Housing I P, (FHIP) represented the complainant. 
The complaint alleged that Pilgrim Towers had occupancy policies that required tenants to be able to live independently and submit to physical exams if Pilgrim Towers board determined a tenant could not. The investigation revealed that Respondent had an independent living requirement, and consequently, Region I issued a Letter of Findings of Non-Compliance with Section 504 on August 22, 2013.  During the processing of the HUD complaint, Respondent withdrew the eviction proceedings.  On September 4, 2013, the parties reached an agreement through a settlement conference in Federal Court.  The conciliation agreement requires that the respondent remove all independent living requirements from its policies. The conciliation agreement also calls for $60,000 paid to Complainant, inclusive of attorney's fees.  The agreement requires that all staff be trained on reasonable accommodations and Section 504 compliance.  Additionally, Respondent shall record each reasonable accommodation request for a period of one year. These public interest terms will bring Respondent into compliance with Section 504.
Housing Discrimination Project (HDP) v Hazen – familial status discrimination.  On December 7, 2013 a HUD ALJ signed the consent order closing the FHEO cause determination and Regional Counsel Charge in HDP v. Hazen.  The case resulted from testing comducted by Housing Discrimination Project, a FHIP in Massachusetts, for familial status discrimination at a two-unit building in Pittsfield, Massachusetts.  The settlement requires respondent to pay $5,000 to HDP and a $2,000 civil penalty.  Respondent also must attend and pay $500 per session for two trainings by the FHIP.  Finally, Respondent must conduct a lead paint inspection and, if the property contains lead paint, take all steps to remedy the lead paint as required by Massachusetts law, which requires deleading properties when being rented to children under five years of age.
HUD and Connecticut Management Company Settle Claim Alleging Discrimination Against Families with Children.  A national property management company will pay $15,000 under an agreement resolving allegations it discriminated against a Connecticut family with children.  A Middletown, Connecticut husband and wife alleged that employees at Hamilton Point Property Management, LLC refused to renew their lease after concluding the family of five was too large for the two-bedroom apartment they occupied for nearly a decade.  
The federal Fair Housing Act (FHA) makes it unlawful to refuse to rent or to impose different rental terms on the basis of familial status, including actions that unreasonably limit rental occupancy. HUD guidance, issued March 20, 1991, states that although an occupancy policy of two persons in a bedroom is generally reasonable under the Fair Housing Act, such a policy might in some circumstances unfairly exclude families with children and violate the Fair Housing Act.  HUD's guidance states that in examining whether such policies violate the law, HUD will consider factors such as: the size of the bedrooms and of the overall unit; the age of the children; the unit configuration; other physical limitations of the housing; state and local law; and other relevant factors.
While HUD maintains that two persons per bedroom is often a reasonable standard, housing providers are on notice that they must always consider the size of the rooms and overall apartment when setting occupancy standards.  The family filed a complaint with HUD alleging that employees at Hamilton Point Property Management refused to renew their longstanding lease agreement because there were too many people in the family to live in their 1,464 square-foot two-bedroom apartment with a separate den/study.  The company allegedly maintained an unwritten policy restricting occupancy to two persons per bedroom regardless of size, claiming that Connecticut state law required the restriction.  Neither Connecticut state law nor Middletown ordinances impose a blanket restriction.  The married couple's complaint further alleged that the family was forced to vacate their home under threat of eviction and had to move to another apartment that was farther away from their work and community, and which required their children to switch schools.          
Under the terms of the agreement, Hamilton Point Property Management, LLC will pay $15,000 to the family and conduct a nationwide search to determine how many other families were affected by the company's occupancy policy since February 19, 2011.  Qualified affected families approved by HUD may be entitled to $3500.  Additionally, Hamilton Point Property Management, LLC, will revise its occupancy policy, send notice of the new policy to all current residents, and include Equal Housing Opportunity language and logos in all advertising and promotional materials.
The Rest of the Country – Settlement Agreements
Justice Department And Hud Settle Discrimination Claims Against The City Of Joliet, Ill.
Comprehensive Agreement Will Preserve Affordable Housing for City Residents for Next 20 Years
The Justice Department, the Department of Housing and Urban Development (HUD) and the City of Joliet, Ill., have settled housing discrimination litigation that will preserve affordable housing for low-income residents in the southwest Chicago suburb for at least the next 20 years.  The agreement, which was approved today by the U.S. District Court for the Northern District of Illinois, resolved the claims of the United States in two lawsuits in which the government contended that the city had discriminated against African Americans in violation of the Fair Housing Act when it attempted to condemn a federally subsidized affordable housing development.  The development, known as Evergreen Terrace, contains 356 units of affordable housing that are currently operated by a private owner pursuant to a 20-year contract with HUD.  The agreement ensures that, if  the city acquires the property through condemnation or otherwise, any displaced resident will be able to remain in affordable housing in Joliet, and at least 115 low-income housing units will continue to be available for families at the property or, subject to HUD approval, elsewhere in Joliet. 
Jocelyn Samuels, Acting Assistant Attorney General for Civil Rights said,  "This settlement ensures that, if the city prevails in its eminent domain action, Evergreen Terrace residents will not be forced to leave the city and low-income housing opportunities will be preserved in the city.  The assures that local governments that try to reduce affordable houisng opportunities without providing meaningful alternatives risk running afuol of anti-discrimination laws and the settlement protects the housing rights of minoirty families living in Joliet. It is important that government at every level make certain they cultivate affordablr housing and avoid creating obstacles to affordable housing for families.
Under the settlement, if the city acquires the property, consisting of eight buildings, it will still be bound by certain restrictions designed to protect residents and preserve affordable housing within the city of Joliet. HUD funding under HUD's Community Development Block Grant and HOME Investment Trust Funds program that HUD had previously withheld because of its conclusion that the city was not complying with the Fair Housing Act will be restored.
HUD Announces Agreement With Michigan Apartment Complex Owners To Settle Complaints Of Housing Discrimination Against Families With Children
Owners of Shelby Park Manor apartment complex in Shelby Township, MI, will pay $100,000 as part of an agreement resolving allegations that the property's on-site manager refused to rent to families with children.  The Fair Housing Act makes it unlawful to discriminate in the sale or rental of housing based on the basis of race, color, national origin, religion, sex, disability, or familial status.
Federal law has made it illegal to deny housing to families simply because they have children.  The Fair Housing Act sets forth the standards  '55 and over' communities must meet if they are to exclude families with children.  The case came to HUD's attention when the Fair Housing Center of Metropolitan Detroit (FHCMD), a non-profit fair housing organization that receives HUD funding, filed a complaint with HUD alleging that testing they conducted revealed that Shelby Park Manor's property manager refused to rent to families with children.  The complaint followed a series of fair housing tests conducted by FHCMD. In several of the tests, Shelby Park Manor's property manager allegedly told testers that the complex was a community for persons 55 years of age and older and that she could not accommodate persons with children.    
Under the terms of the agreement, Shelby Park Manor will pay $100,000 to FHCMD, develop and implement new policies, standards and procedures that do not discriminate against prospective tenants because of their family status or race, meet the requirements of the Housing for Older Persons Act if claiming to be senior housing, and provide fair housing training for its property manager.
Hud, New Jersey Apartment Owners Settle Claim Alleging Discrimination Against African Americans
The owners of two apartment buildings in North Arlington, NJ, will pay $21,000 under an Initial Decision and Consent Order resolving allegations that the owners violated the Fair Housing Act by denying rental opportunities to prospective African-American tenants.
Earlier this year, HUD charged Michael Pontoriero, one of the buildings' owners, with violating the Fair Housing Act for refusing to show apartments to or return the calls of a prospective tenant after learning that he is African American. The charge further alleged that Pontoriero repeated the discriminatory behaviors in fair housing tests that were conducted by the Fair Housing Council of Northern New Jersey (FHCNNJ), a non-profit fair housing organization that receives funding from HUD to investigate claims of discrimination.    
Fair housing testing remains an effective tool for exposing illegal housing discrimination that still too often occurs in this country. The Fair Housing Act makes it unlawful to refuse to rent or impose different rental terms or conditions on the basis of race, color, national origin, religion, sex, disability, or familial status.
The settlement stems from a charge HUD filed in June 2013 on behalf of an African-American man and FHCNNJ.  HUD's charge alleged that the man, when searching for housing, contacted Pontoriero to inquire about an apartment for rent.  According to the charge, Pontoriero made an appointment to show the man the apartment, confirmed the appointment minutes before, and then failed to keep the appointment after learning the man's race.  Believing that he had been the victim of illegal discrimination, the man contacted FHCNNJ, which conducted four paired tests using a white tester and a black tester in each test.
The charge alleged that the tests revealed that Pontoriero refused to show up for appointments and return calls after he learned that a tester was African American.  Pontoriero allegedly would drive by or arrive for apartment viewing appointments early in order to discover a prospective renter's race.
Under the terms of the Initial Decision and Consent Order, the apartment owners will pay $10,000 to the African-American man and $5,000 to the Fair Housing Council of Northern New Jersey for damages arising out of the alleged discrimination.  The owners must also pay a $6,000 civil penalty.  Additionally, the owners and their employees must complete fair housing training and implement a non-discrimination policy.
Mortgage Insurance Company Pays $30,000 To Settle Maternity Leave Discrimination Claims
The U.S. Department of Housing and Urban Development (HUD) announced today that it has reached agreements to settle two Fair Housing Act complaints against Madison, WI-based CMG Mortgage Insurance Company (CMG MI), the nation's largest provider of private mortgage insurance to credit unions.  CMG MI will pay $30,000, to resolve allegations that it refused to insure the home mortgage loan of a married couple because the wife was on maternity leave, and that it maintained a written policy of refusing to consider the regular pay of women on maternity leave as income.
The Fair Housing Act  makes it unlawful to discriminate in mortgage lending and residential real estate-related transactions based on race, color, national origin, religion, sex, family status or disability.  These prohibitions include refusing to approve a mortgage loan or to provide mortgage insurance because a woman is pregnant or on maternity leave.  A woman's maternity leave is not a legitimate basis for a lender to deny a mortgage loan or for an insurer to deny mortgage insurance. The Conciliation Agreements resulted from a complaint by a married couple seeking to refinance their home mortgage loan through a credit union.  The credit union allegedly denied the application because the woman was on maternity leave, citing CMG MI's guidelines for calculating income for women on maternity leave, which allowed for regular pay to be considered only if the applicant returned to work before the loan closed.
HUD also filed a Secretary-initiated complaint against CMG MI on behalf of the public, alleging that the company's written policies and procedures regarding borrowers on maternity, paternity, pregnancy, or parental leave were discriminatory.
Under the terms of the Conciliation Agreements, CMG MI will pay $5,000 to the couple who filed the initial complaint and $25,000 to a qualified organization to educate the public about their fair lending rights, including the rights of borrowers on maternity, paternity, pregnancy, or parental leave when applying for home mortgage loans.  Additionally, CMG MI will develop new nondiscriminatory guidelines regarding calculating maternity, paternity, and pregnancy leave income, and train its employees and employees of credit unions that have underwriting responsibilities about these new guidelines.
Hud, Deutsche Bank Subsidiary Agree To $12.1 Million Settlement Of Lending Discrimination Claims
Mortgage IT will establish fund to compensate minority borrowers
MortgageIT, Inc., an indirect subsidiary of Deutsche Bank, has agreed to pay $12.1 million under a Conciliation Agreement with HUD resolving allegations that the residential lender discriminated against African American and Hispanic borrowers seeking mortgage loans.  HUD had alleged that the lender's practices contributed to minority borrowers being charged higher Annual Percentage Rates (APRs) and fees than similarly-situated white borrowers, and denied minority applicants loans more often than similarly-situated white applicants.
Creditworthiness and ability to pay that matter when a home owner applies for a loan, not your race or where you come from. This complaint filed against MortgageIT, alleged that the company discriminated against African American and Hispanic borrowers by underwriting, approving, purchasing, and securitizing mortgage loans in a manner that allowed pricing and denial disparities on the basis of race and national origin.  A HUD review of MortgageIT's 2007 and 2008 internal loan data alleged that African American and Hispanic borrowers paid APRs that were eight to ten basis points higher, on average than similarly-situated white borrowers.  In addition, HUD alleged that African American borrowers were 65 percent and Hispanic borrowers 72 percent more likely to receive higher priced loans than similarly-situated white borrowers, African American and Hispanic borrowers also allegedly paid, on average, $707 and $906 more in fees, respectively.  HUD also alleged that African-American applicants were 45 percent more likely to be denied a mortgage loan than similarly-situated white borrowers.  Hispanic applicants were allegedly 35 percent more likely to be denied.
Under the terms of the agreement, MortgageIT will establish a $12.1 million fund to compensate borrowers nationwide who were unfairly been denied a loan or whose loans may have contained terms and conditions that violate the Fair Housing Act.  Any funds remaining after all victims have been compensated will be distributed to qualified organizations that provide credit and housing counseling, financial literacy, and other related programs that assist African American and Hispanic potential, current, and former homeowners.
Hud Announces Settlement With Bank Of America Resolving Allegations Of Lending Discrimination Against Women On Maternity Leave
Bank agrees to pay $45,000 to two couples and real estate agent
Bank of America will pay $45,000 as part of Conciliation Agreements resolving allegations the lender discriminated against pregnant women seeking mortgage loans.  HUD had alleged that the Bank of America refused to refinance the mortgages of two couples in California and Texas, because the women were on maternity leave.
Refusing to approve a mortgage loan or provide mortgage insurance because a woman is pregnant or on family leave violates the Fair Housing Act's prohibition against sex and familial status discrimination, which includes individuals who have or are expecting a child.
A woman's pregnancy or maternity leave is not a reason to deny a mortage loan.  The cases that were the basis for this settlement involved two couples. One couple, from San Jose, California, alleged that Bank of America moved back the closing date on their  mortgage refinance because the woman was on maternity leave. The other couple, from Humble, Texas, alleged that Bank of America refused to consider the wife's employment income and denied their application for a mortgage loan because she was on maternity leave.  The couple further alleged that when their real estate agent told the loan officer that denying the loan because of the woman's maternity status violated the Fair Housing Act, the loan officer changed his reasons for denying the loan.  The couple ultimately obtained a mortgage from a different lender.
Under the terms of the Conciliation Agreements, Bank of America will pay$25,000 to the California couple and $15,000 to the Texas couple. The Bank will also pay $5,000 to the Texas couple's realtor.  Additionally, Bank of America will revise its policies to allow applicants on parental leave to be approved for mortgage loans without first returning to active work status.  Bank of America will also conduct fair lending training for its employees.
Missouri Apartment Owner Agrees To Pay $20,000 To Resolve Discrimination Charge
The owner and management company of a Kansas City, Missouri apartment complex will pay $20,000 to resolve allegations they illegally refused to grant a tenant with disabilities' request to have a live-in caretaker.
The Fair Housing Act requires housing providers to make reasonable accommodations in their rules, policies, practices or services when needed to provide persons with disabilities an equal opportunity to use or enjoy a dwelling.  Residents with disabilities are entitled to modifications of a general rule if the application of such a rule results in the denial of housing opportunites.  The Consent Order resolves a charge of discrimination that HUD filed in last September alleging that Brentwood Manor Apartments, L.P.; its management company, CE Real Estate Services, Inc.; and several affiliated management entities, violated the Fair Housing Act by refusing to waive a policy requiring that the tenant live in her apartment for six months before she could add someone to the lease.
HUD brought the charge following its investigation of a complaint filed with the Department by a woman who, due to her disability, needed someone to live with her to assist with her care before the requisite six-month period elapsed. The woman told the apartment management company that her sister was willing to move into the apartment and provide the necessary care. The woman's doctor documented her need for the accommodation, but the management company denied her request. HUD further alleged that the woman was forced to vacate her apartment and move to different housing out of state because of the management company's refusal to grant her request.
Under the terms of the Initial Decision and Consent Order, the owner and management company will pay the woman $20,000, adopt and implement a reasonable accommodation policy, and provide fair housing training for all employees that interact with tenants.
Subscription Information
We hope that you will want to continue receiving information from HUD.  We safeguard our lists and do not rent, sell, or permit the use of our lists by others, at any time, for any reason. If you no longer wish to recived this information have your name removed from this mail list.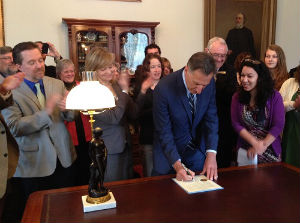 April is Fair Housing month.  The Fair Housing Act was signed into law on April 11, 1968 by President Johnson.  This section of the Civil Rights Act had languished in the House for many months.  However, after Martin Luther King, was assassinated the federal Fair Housing Act was signed into law.  The law sought to eliminate segregated housing practices so that every American regardless of race, religion or national origin.  In 1974 sex was added as a protected class and in 1988 disability and familial status were recognized as a protected classes.
Vermont has several other protected classes including sexual orientation, marital status, gender identification, receipt of public assistance and age.  The text of the proclamation is below.
State of Vermont
Executive Department
A Proclamation
Whereas,  April marks the anniversary of the passage of the Federal Fair Housing Act, Title VIII of the Civil Rights Act of 1968, as amended, which represents a national policy of fair housing without regard to race, color, religion, sex, national origin, familial status, and disability, and encourages fair housing opportunities for all citizens; and
Whereas,  Vermont has been a leader in the country by enacting a law to extend protections of the Federal Fair Housing Act to include sexual orientation, age, marital status, gender identity, and recipients of public assistance as protected classes; and
Whereas,  the state took the further step to ensure fair housing in 2012 by enacting a law prohibiting discrimination against housing developments in land use and planning decisions based on the income of intended residents; and
Whereas,  the State of Vermont supports fairness in all housing transactions by continuing to address discrimination, supporting programs that educate the public about the right to equal housing opportunities, and collaborating with organizations to assure every Vermonter of their right to equal housing; and
Whereas,  only through the continued cooperation, commitment and support of all Vermonters can barriers to fair housing be permanently removed from our state;
now, Therefore, I, Peter Shumlin, Governor, do hereby proclaim April, 2014 as fair housing month in Vermont.
Peter Shumlin
Governor