Image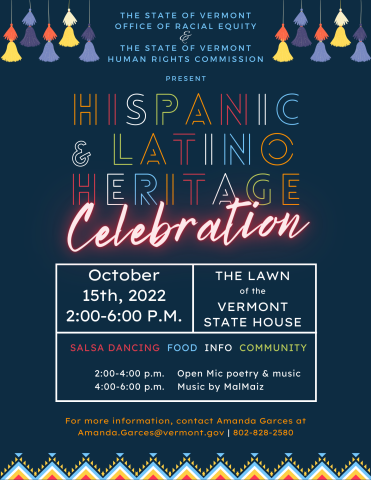 The Office of Racial Equity and the Vermont Human Rights Commission request your participation in celebrating Hispanic Heritage Month
Together we will celebrate the contributions and achievements of the Hispanic and Latin communities with the following:
From September 15th to October 15th, our offices will offer online suggestions for celebrating Hispanic Heritage Month at school, the office, and in your home.
On October 15th we will gather at the Vermont State House in Montpelier and celebrate together with food, dancing, and Latin music performed by Mal Maiz.
History
Each year, the United States observes National Hispanic Heritage Month from September 15 to October 15, by celebrating the contributions and importance of Hispanic and Latin@ people and those whose ancestors came from Spain, Mexico, the Caribbean, Central America, and South America.
In 1968, Congress authorized President Lyndon B. Johnson to proclaim a week in September as "National Heritage Week." The observance was expanded in 1988 to a month-long celebration.
National Hispanic Heritage Month begins on September 15th because it is the anniversary of the independence of five Latin American countries: Costa Rica, El Salvador, Guatemala, Honduras, and Nicaragua. Mexico and Chile celebrate their independence on September 16th and 18th, respectively. You can learn more about National Hispanic Heritage Month here. 
Demographics
According to the U.S. Census, the Hispanic or Latin@ population in the United States increased by 23% between 2010 and 2020. "In Vermont, it increased by 68.4%, or about 6300 individuals - the third largest percentage growth in the nation..."
We would like to honor community members in Vermont who come from Latin American countries including: Argentina, Bolivia, Brazil, Chile, Colombia, Costa Rica, Cuba, Dominican Republic, Ecuador, El Salvador, Guatemala, Honduras, Mexico, Nicaragua, Panama, Paraguay, Peru, Puerto Rico, Uruguay, and Venezuela. 
Latino, Latina, Latinx, Hispanic? What is the difference?
In Vermont, as in the rest of the United States, there are some who prefer certain terms over others. For more information about these distinctions, see the resources below. If you would like to add to this information, let us know.
What's the difference between Hispanic, Latino and Latinx? | University of California
Latino, Hispanic, Latinx, Chicano: The History Behind the Terms - HISTORY
Additional Resources:
For teachers:
Here is an excellent resource with a collection of lessons, booklists, biographies of noted historical figures, and readings for free use by classroom teachers to teach central America Teaching Central America
Books:
Julia Alvarez, The Woman I Kept to Myself
Julia Alvarez is a writer, whose novels include How The García Girls Lost Their Accents and In the Time of the Butterflies.  She's also a prize-winning poet, children's author, and essayist.  She currently lives in Vermont and continues to delight us with her writing. You can find more about Julia Alvarez on her website Julia Alvarez. Also, listen to this amazing podcast: 'The Woman I Kept To Myself': Julia Alvarez On Poetry And Identity : Code Switch : NPR
Prisca Dorcas Mojica Rodríguez, For Brown Girls with Sharp Edges and Tender Hearts: A Love Letter to Women of Color
"For generations, Brown girls have had to push against powerful forces of sexism, racism, and classism, often feeling alone in the struggle. By founding Latina Rebels, Prisca Dorcas Mojica Rodríguez has created a community to help women fight together. In For Brown Girls with Sharp Edges and Tender Hearts, she offers wisdom and a liberating path forward for all women of color. She crafts powerful ways to address the challenges Brown girls face, from imposter syndrome to colorism. She empowers women to decolonize their worldview, and defy "universal" white narratives, by telling their own stories. Her book guides women of color toward a sense of pride and sisterhood and offers essential tools to energize a movement." Learn more here: For Brown Girls with Sharp Edges and Tender Hearts by Prisca Dorcas Mojica Rodriguez | Seal Press. Watch an interview with Prisca Dorcas Mojica Rodriguez here
Podcasts/videos:
Latino USA with Maria Hinojosa
A Vermonter from Havana - E2 Cultural shock
Films:
The Infiltrators | POV (pbs.org) with a discussion guide
"A true story of two young immigrants who get purposefully arrested by Border Patrol, and put in a shadowy for-profit detention center. The film follows Marco and Viri, members of a group of radical Dreamers who are on a mission to stop deportations. And the best place to stop deportations, they believe, is in detention. Official Selection, Sundance Film Festival. A co-presentation of Latino Public Broadcasting."