Karen Richards - Executive Director
Direct line: 802-828-2482
Karen L. Richards joined the Vermont Human Rights Commission (VHRC) as the Executive Director on March 18, 2013. She oversees all operations of the HRC and acts as its legal counsel. Prior to her appointment to this position, Karen was the Poverty Law Project Director at Vermont Legal Aid, Inc. (VLA) for fourteen years (1998-2013). During part of her tenure at VLA, she supervised the organization's fair housing grants.  Prior to assuming her position at VLA, she was legal counsel to the Vermont Department (now Agency) of Education from 1993-1998, where she specialized in disability-related issues and investigated school harassment cases with the VHRC.  As a staff attorney at Connecticut Legal Services from 1983-1993, Karen's areas of expertise included housing and special education.  Prior to leaving CLS, she started a fair housing unit.  Karen was admitted to the practice of law in 1982 in Connecticut and in 1993 in Vermont.  She is also admitted to the U.S. District Court of Vermont.  Ohio University (B.A. 1979); University of Connecticut School of Law (J.D. 1982). 
 
VACANT - Executive Staff Assistant / Case Manager
Nelson Campbell - Administrative Law Examiner
Direct line: 802-828-2490
Nelson Campbell joined the VHRC in 2010. She primarily investigates allegations of discrimination in state employment and alleged violations of Vermont's public accommodation statute. Nelson received her B.A. from the University of Massachusetts, Amherst and an M.S.L. from Vermont Law School. In 1998, she graduated from the University of Tennessee School of Law and was admitted to the Maryland Bar. She practiced in Baltimore City and Cecil County, Maryland before moving to Vermont. She is a member of the Vermont Bar. She has provided sexual harassment training for municipalities around the state and is available to provide training sessions upon request.
 
Bor Yang - Administrative Law Examiner
Direct line: 802-828-2493
Bor Yang joined the VHRC in 2015. She completed her B.A. from the University of Wisconsin - Madison and her J.D. from the University of Minnesota Law School in 2003. After a clerkship in District Court, Bor practiced in the areas of family law, government benefits and social security law, representing indigent clients and victims of domestic violence at a non-profit organization. Prior to joining the VHRC, Bor was a solo practitioner, qualified neutral mediator and college instructor in a legal studies program in Minnesota. Additionally, she was a volunteer attorney with the Minnesota Volunteer Lawyer's Network and provided instruction and training to legal and non-legal professionals on serving immigrant populations. Bor investigates allegations of discrimination in state employment, public accommodations and housing. She also provides training in these legal areas.
VACANT  - Administrative Law Examiner
HRC Commissioner Biographical Sketches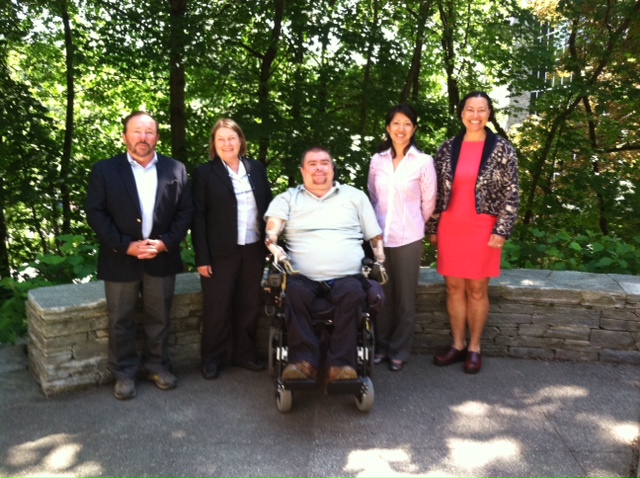 From Left: Donald Vickers, Mary Marzec-Gerrior, Nathan Besio, Mary Brodsky and Dawn Ellis
Kevin "Coach" Christie of Hartford was appointed to the Vermont Human Rights Commission on March 1, 2018, to fill a term that expired on February 28, 2018.  Mr. Christie was appointed by Governor Scott to serve as Chair of the Vermont Human Rights Commission.   Mr. Christie attended parochial schools through high school, receiving a BA from Eastern CT State University in 1972. He moved to Auechee, VT in 1973 to open an automotive business. He is married to Mary C. Christie and they have two daughters, Amber and Angela. Mr. Christie started coaching track at Hartford High School in 1980 and then started coaching football and teaching at Hartford Technical Career Center in 1986, receiving his MEd in Ed. Admin/Supervision in 1990. He was named Vermont Technical Education Teacher of the Year in 1992. In 1994 he became the Technical Center Director/Principal at Randolph Technical Career Center in Randolph, VT in 2001. He began his Doctoral Degree in Ed. Admin. and is almost completed. Mr. Christie additionally was an automotive Service Director and then Theraputic Case Manager for youth in foster care for six years, he has served on the Vermont Human Rights Commission, Boys & Girls Club, Vocal Soloist, VT Special Olympics Ed. Advisor, Correctional Facility Chair, VT Reghab Advisory COuncil, VT Symphony Chorus, Nat. Rep. AVA Resolutions Comm., Hartford Housing Authority. In addition Mr. Christie holds certificatiions in; Principal, K-12, Superintendent, Technical Center Director, Auto Tech Teacher, NOCTO, ASE. He is a notary public, has served on the Hartford School Board since 2007 and was the Chair.
Nathan Besio of Colchester, a person with a disability who uses a wheelchair, was appointed effective May 16, 2007 to fill the slot on the Vermont Human Rights Commission formerly held by its chair, now Judge Thomas Zonay.  Mr. Besio, who resides in Colchester with his wife Gretchen, has been re-appointed twice, most recently in 2012 to a full term that expires in 2017.  He has over ten years of business and accounting experience, primarily in the non-profit industry.  He recently became a peer advocate at the Vermont Center for Independent Living (VCIL). Mr. Besio is very active in the disability rights community and is a member of several disability rights organizations.  Mr. Besio received a B.A. in Psychology from St. Michael's College in 2000 and an M.B.A. from State University of New York at Albany in 2002.
Mary Brodsky of Essex was appointed to the Vermont Human Rights Commission on December 2, 2010 to fill Senator Benning's term which expired on February 28, 2014. She was re-appointed to a second five-year term by Governor Shumlin in March 2014.  Ms. Brodsky began her career in the Federal government with the U.S. Immigration and Naturalization Service, where she worked in the Office of Congressional and Public Affairs and the Office of Equal Employment Opportunity.  She was a Branch Chief with the Employee Relations Division of U.S. Customs and Border Protection and is currently the Labor and Employee Relations Manager at the University of Vermont. A committed community leader who has served on several boards, she resides in Essex with her husband, Brendan Kinney, and their three children. Ms. Brodsky received a B.A. from St. Michael's College.
Donald R. Vickers of Georgia was appointed to the Vermont Human Rights Commission on February 15, 2008 to a term of five years and has been re-appointed twice in 2011 and 2016 to  new five-year terms. His term expires in 2021.  Mr. Vickers recently retired from the Vermont Student Assistance Corporation (VSAC) where he played a major role in the development of the program for the past 42 years and served as VSAC's president and CEO from 1988 until his retirement.  Prior to his employment with VSAC, Mr. Vickers served as Director of Financial Aid and Placement at Johnson State College.  Mr. Vickers is active in a number of regional and national higher education organizations. He served previously for 12 years as chair and member of the Essex Town School Board and is a presently a Justice of the Peace in the Town of Georgia.
Dawn M. Ellis of Burlington was appointed to the Vermont Human Rights Commission on May 15, 2015 to a five-year term that expires in 2020. Ms. Ellis is the President of Dawn M. Ellis & Associates, LLC and has worked for over twenty years to enhance communities by consulting in the areas of education and social services; community, economic and leadership development; access and inclusion; corrections and social justice; innovation and virtual learning; as well as creativity, culture and recreation. Her work empowers people and affects policy across the U.S. and abroad. As the former Executive Director of VSA Vermont, the state organization on arts and disability, Ms. Ellis built partnerships that continue today to increase access and include people with disabilities and from disadvantaged groups in the broader community.