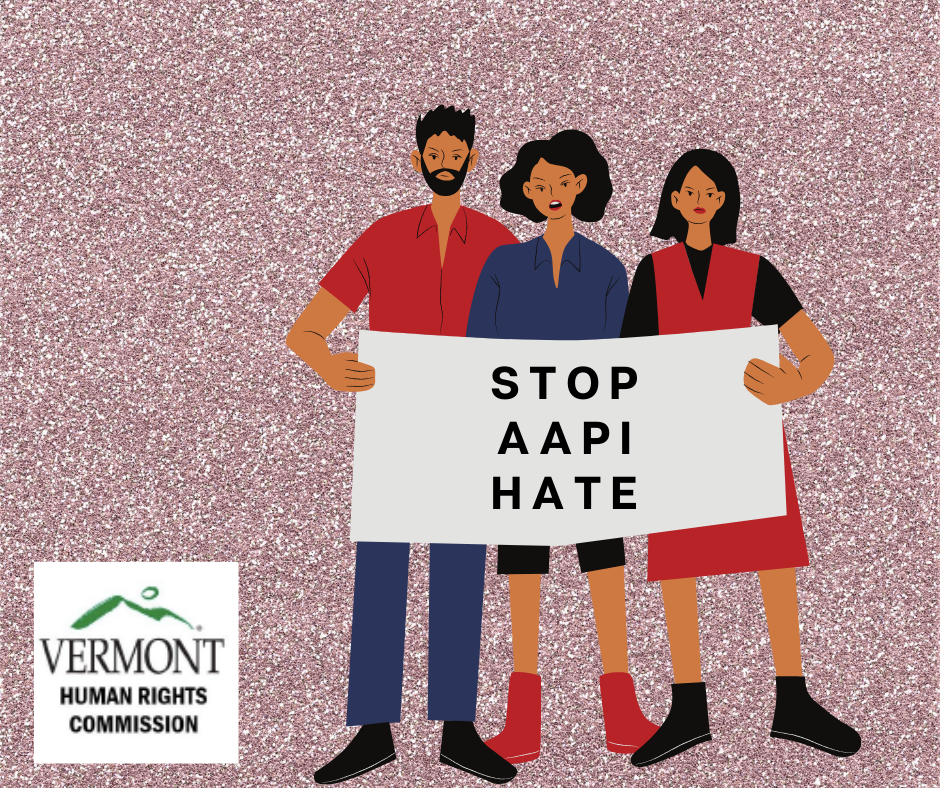 Xiaojie Tan, 49, of Kennesaw; Daoyou Feng, 44; Delaina Ashley Yaun Gonzalez, 33, of Acworth; and      Paul Andre Michels, 54; The names and ages of the victims of the shooting that occurred at Young's Asian Massage Spa in Atlanta, Georgia on Tuesday, March 16th. The names of the four victims who were killed at other locations are yet to be released. 
The Vermont Human Rights Commission would like to share our condolences with the affected families and community members, but also condemn such hateful acts against Asian American and Pacific Islander community members. Together, we stand with the AAPI community.
On March 19, 2020, a coalition of organizations in California launched the Stop AAPI Hate reporting center to "track and respond to incidents of hate, violence, harassment, discrimination, shunning, and child bullying against Asian Americans and Pacific Islanders in the United States."  From March 19, 2020 to February 28, 2021, 3,795 incidents, ranging from verbal harassment to physical assault, were reported. The latest report paints only a sliver of what is happening on the ground because not all survivors of harassment, discrimination, and acts of violence come forward. There are many barriers to speaking out. 
Simply because something has not been reported does not mean it has not happened here. Vermont is not immune to hate crimes. What we can do as a community is not just to remove the barriers to reporting but to come together to prevent the harm in the first place.
On May 6th of last year, the HRC hosted a townhall titled, When Fear Turns to Hate: Addressing Racism in VT against Asian and Pacific Islander Communities. In October we asked two amazing writers, Joyce Y. Lee LCSW, and author An Na to share their wisdom with us to empower families and schools to create an inclusive community.
We must do more to support AAPI community members nationwide but, more importantly, for us, we must support the AAPI community here in Vermont.  We must not overlook what the community is facing, and we must work together to ensure that we are building a system that says no to violence, harassment, and discrimination against community members.
A few things you can do:
If you are a member of the AAPI community and would like to stay connected to other AAPI community members e-mail Amanda.garces@vermont.gov to direct you to grassroots groups creating connection and community. 
If you experience harassment or discrimination, report it to Human Rights Commission or Attorney General's Office:
Coronavirus Racism against Asian American and Pacific Islanders Incident Report | Human Rights Commission (vermont.gov).
Hate Crimes - Office of the Vermont Attorney General
On April 8th, from 5:30-7:30 p.m., join the Peace and Justice Center, SURJ, and the Vermont Human Rights Commission in a Bystander Intervention training.  Register here: Meeting Registration