Image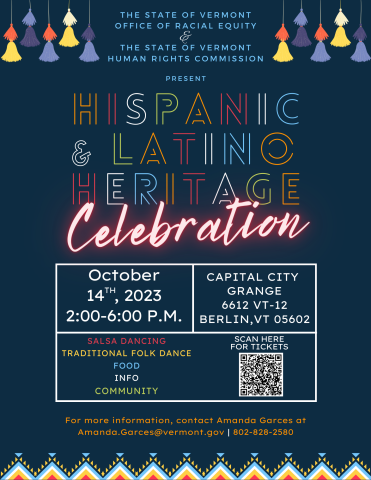 The Office of Racial Equity and the Vermont Human Rights Commission request your participation in celebrating Hispanic Heritage Month
Together we will celebrate the contributions and achievements of the Hispanic and Latine communities
On October 14th we will gather at the Capital City Grange Hall in Berlin and celebrate together with food, dancing, and Latin music!
History
Each year, the United States observes National Hispanic Heritage Month from September 15 to October 15, by celebrating the contributions and importance of Hispanic and Latin@ people and those whose ancestors came from Spain, Mexico, the Caribbean, Central America, and South America.
In 1968, Congress authorized President Lyndon B. Johnson to proclaim a week in September as "National Heritage Week." The observance was expanded in 1988 to a month-long celebration.
National Hispanic Heritage Month begins on September 15th because it is the anniversary of the independence of five Latin American countries: Costa Rica, El Salvador, Guatemala, Honduras, and Nicaragua. Mexico and Chile celebrate their independence on September 16th and 18th, respectively. You can learn more about National Hispanic Heritage Month here. 
Demographics
According to the U.S. Census, the Hispanic or Latin@ population in the United States increased by 23% between 2010 and 2020. "In Vermont, it increased by 68.4%, or about 6300 individuals - the third largest percentage growth in the nation..."
We would like to honor community members in Vermont who come from Latin American countries including: Argentina, Bolivia, Brazil, Chile, Colombia, Costa Rica, Cuba, Dominican Republic, Ecuador, El Salvador, Guatemala, Honduras, Mexico, Nicaragua, Panama, Paraguay, Peru, Puerto Rico, Uruguay, and Venezuela. 
Latino, Latina, Latinx, Hispanic? What is the difference?
In Vermont, as in the rest of the United States, there are some who prefer certain terms over others. For more information about these distinctions, see the resources below. If you would like to add to this information, let us know.
What's the difference between Hispanic, Latino and Latinx? | University of California
Latino, Hispanic, Latinx, Chicano: The History Behind the Terms - HISTORY
Additional Resources:
In honor of National Hispanic Heritage Month, the American Bar Association's Diversity and Inclusion Advisory Council has launched the 21-Day Hispanic Heritage Equity Habit Building Challenge and we are joining them! 
 ABA-Wide 21-Day Hispanic Heritage Month Equity Habit-Building © Syllabus 
"Every moment is an organizing opportunity, every person a potential activist, every minute a chance to change the world. When you have a conflict, that means that there are truths that have to be addressed on each side of the conflict." - Delores Huerta
Official Page: https://www.hispanicheritagemonth.gov/  
Whitehouse proclamation September 14, 2021 - https://www.whitehouse.gov/briefing-room/presidential-actions/2021/09/1…
Top 8 Reasons Why and How We Celebrate Hispanic Heritage Month
https://learninglab.si.edu/news/top-8-reasons-why-and-how-we-celebrate-hispanic-heritage-month 
Day 1
Our Identity: Hispanic or Latino/x
NBC News Article - Latinos own and disown 'Hispanic' in journey to harness identity
What Being Hispanic and Latinx Means in the United States - What Being Hispanic and Latinx Means in the United States | Fernanda Ponce | TEDxDeerfield 
Is it Hispanic, Chicano/Chicana, Latino/Latina, or Latinx?
https://www.exploratorium.edu/sites/default/files/Genial_2017_Terms_of_Usage.pdf
The Difference Between the Terms Latino and Hispanic, and How They Overlap
https://www.oprahdaily.com/life/a33395013/latino-vs-hispanic-meaning/
https://news.berkeley.edu/2014/04/29/hispanic-label/ 
Day 2
What are the different populations in the Hispanic Community 
https://www.pewresearch.org/fact-tank/2019/09/16/key-facts-about-u-s-hispanics/
Facts about US Latinos for Hispanic Heritage Month            
Day 3
The Beautiful Spanish Language 
The History of the Spanish Language
The history of Spanish in about six minutes
Why don't you speak Spanish?': For Julián Castro and millions of Latinos, the answer is not so simple 
Can You Lose A Language You Never Knew? 
Latinos Who Never Learn Spanish May Struggle With Identity : Code Switch 
Day 4
Faith in the Hispanic Community
https://latinostudies.nd.edu/community/latino-spirituality/
https://www.nytimes.com/2014/05/08/upshot/even-as-hispanics-lift-catholicism-theyre-leaving-it.html
The Shifting Religious Identity of Latinos in the United States - https://www.pewforum.org/2014/05/07/the-shifting-religious-identity-of-latinos-in-the-united-states/ 
Day 5
Labor Movement
5 Hispanic Leaders Who Changed Labor History
https://blog.dol.gov/2021/09/15/5-hispanic-leaders-who-changed-labor-history
Celebrating the Rise of Hispanic Women Workers
https://blog.dol.gov/2021/09/17/celebrating-the-rise-of-hispanic-women-workers 
Dolores Huerta YouTube Video: https://youtu.be/28-bRl56KJk
Ted Talk: https://www.ted.com/talks/dolores_huerta_how_to_overcome_apathy_and_find_your_power
NPR Interview: https://www.npr.org/sections/thesalt/2017/09/17/551490281/dolores-huerta-the-civil-rights-icon-who-showed-farmworkers-si-se-puede 
Day 6
Education
Latinos and Education: Explaining the Attainment Gap
TED Talks Profile Latino Game Changers On an 'Education Revolution'
Latino Parents Value College More Than Anybody Else
Day 7
Health and Social Welfare
Opinion | Now Is a Time to Learn From Hispanic Americans (Published 2020)           [5 minute read]
​​Latinos Face Disproportionate Health and Economic Impacts From COVID-19           [14-minute read ]
Additional Materials:
For U.S. Latinos, COVID-19 Has Taken a Personal and Financial Toll           [17-minute read]
Day 8
Civil Rights 
VOCES | The Chicano Rights Movement  [2:31 minute video]
Additional Material
What Was the Chicano Movement?  [5 minute read]
15 Latino Activists You Should Know And Read About   [17 min read]
Day 9
Voting Rights
PBS Showcases Willie Velásquez, Latino Voting Rights Hero    [8 minute read]
2020 Election: The voting power of Latino youth  [12-minute read + Video: 8:32]
Day 10
Afro Latinos
Afro-Latino: A deeply rooted identity among U.S. Hispanics [3-minute read]
16 Famous Afro-Latinos — Afro-Latinx Actors, Musicians, More  [9-minute read]
What Afro-Latinos Want You To Know  [3:41 minute video]
Additional Materials
Videos of Latino Latinx Poets Reading Poems About Race — 
[Video 1 =2:35 min; Video 2= 3.21; Video 3=5:14; Video 4 =3:36]
For Some Black People, The Term 'Latinx' Is Another Form of Erasure   [9-minute read]
"Latinx for Black Lives"Is Erasure, Not Allyship   [4 minute read]
5 ways to stop erasing black Latinxs  [3-minute read]
Day 11
Colorism in the Community
Colorism in the Latinx Community! Ft. Lee Chin | Decoded | MTV [5:29 minute video]
A Conversation With Latinos on Race | Op-Docs [6:41 minute video]
'Corazón de América' examines colorism in the Latin American community  [6:30 minute video]
Additional Materials
'In The Heights' Is Haunted By Latin America's History Of Colorism  [6-minute read]
Colorism In The Latino Community  [5-minute read]
Day 12
LGBTQ+ Intersectionality
Hispanic LGBTQ Individuals Encounter Heightened Discrimination
[9 minute read]
Double Discrimination: Latino and LGBTQ - CTLN 
Additional Materials
ABA Webinar: The Hispanic LGBTQ+ Community
https://www.americanbar.org/groups/diversity/commission_on_hispanic_legal_rights_responsibilities/Webinars/the-hispanic-lgbtq-community-one-year-after-bostock/  [1:30 minute video]
LIVING AUTHENTICALLY - 70 pages
LATINX LGBT ADULTS IN THE US LGBT Well-Being at the Intersection of Race - 72 pages 
Day 13
Hispanic/Asian Intersectionality 
This Boricua Is Being Forced To Defend Her Identity As An Asian-Puerto Rican On TikTok
https://wearemitu.com/wearemitu/culture/this-boricua-is-being-forced-to-defend-her-identity-as-an-asian-puerto-rican-on-tiktok/   [4 minute read]
How Chinese Immigrants Found Their Way to Puerto Rico     [3-minute read]
Asians in Latin America   [8 minutes]
Latin Asians | Asian American Life  [7-minute video]
Additional Materials
Being Asian and Latino (Article + NPR Podcast
https://www.latinousa.org/2019/04/09/asianlatino/   [25:118 min podcast]
Day 14
Breaking Barriers
5 Latinos Forging New Ground and Breaking Barriers [4 minute read]
Sonia Sotomayor - Associate Justice of the Supreme Court
https://www.youtube.com/watch?v=BDzhYlOpW64   [3-minute video]
How Rita Moreno Broke Barriers In Hollywood For Latinos | shift | MSNBC  [7-minute video]
Day 15
Prison Reform
Criminal Justice Reform [11-minute read]
2_Latinos — CRIMINAL JUSTICE REFORM: LATINOS AND IMMIGRANTS [13-minute read]
Additional Materials
Viewing Bad Hombres Documentary
https://decolonizejustice.org/videos/bad-hombres  
[35:34 minute video]
The story depicted in the new documentary series "Decolonize Justice," represents the way police, prosecutors and courts have historically targeted people of color for incarceration in our country. This is the subject of the series' anchor documentary, Bad Hombres: From Colonization to Criminalization.
Day 16
Musica!
Latin Music Guide: What Is Latin Music & Where Does It Come From? [13-minute read]
In Mariachi Music, A Distinctive Yell Speaks To The Soul  [5 minute read]
Mariachi: The history and journey of a musical genre [2:10 minute video]
Celia Cruz's 'Son Con Guaguancó' And The Bridge To Fame In Exile  [9-minute read]
Additional Materials
Cinco de Musica presented by the ABA Commission on Hispanic Legal Rights and Responsibilities
Day 17
Community and Family Dynamics 
Hispanic Millennials Are Closer To The Hispanic Culture Than Most Think               [5-minute read]
Family dynamics cause major stress for Latino immigrant families  [3-minute read]
Wealth Gaps between White, Black and Hispanic Families in 2019  [8-minute read]
Nine Charts about Wealth Inequality in America (Updated)  [9-minute read]
Additional Materials
Getting Back on Track: A Detailed Look at Health Coverage Trends for Latino Children
https://ccf.georgetown.edu/2021/06/08/health-coverage-trends-for-latino-children/  
[17 minute read]
How U.S. Hispanics Are Building Generational Wealth Through Homeownership - 
https://www.huffpost.com/entry/how-us-hispanics-are-building-generational-wealth-through-homeownership_n_5f15c169c5b6cec246c5fb6a  [4-minute read]
Latinx Files: How some Latinxs are looking to create generational wealth [8-minute read]
Day 18
Contributions to Literature, Poetry, and the Arts
9 Latino Poets You Should Be Reading - https://www.bustle.com/articles/150473-9-latino-poets-you-should-be-reading
[5 minute read]
U.S. Latinx Voices in Poetry - https://www.poetryfoundation.org/collections/144542/us-latinx-voices-in-poetry
[3 minute read] 
The Famous Hispanic Artists and Latino Creators You Should Get to Know   [10-minute read]
Day 19
Hispanic Heroes
15 Famous Latinos Who Will Inspire Your Kids  [7-minute read]
Hispanic Hero's you Should know    [1:14 minute video]
Day 20
Immigration
DACA
Updates and News About the Deferred Action for Childhood Arrivals program for U.S. Immigrants - https://www.boundless.com/daca-news/
[Page includes 10 article links about DACA news (:46, 3 min, :44, 2 min, 1 min]
Additional Materials
ABA Webinar: Helping Dreamers Realize Their Dreams - the Nuts and Bolts of DACA
https://www.americanbar.org/groups/diversity/commission_on_hispanic_legal_rights_responsibilities/Webinars/daca-helping-dreamers-webinar/  [1.5-hour video]
Perception of perpetual foreigners
6 Harmful Stereotypes About Latin Americans - https://www.verywellmind.com/6-harmful-stereotypes-about-latin-americans-5113358  [4 minute read]
4 Latino stereotypes in TV and film that need to go [2-minute read]
Latinos in America: Daily lives beyond the stereotypes [3-minute video] 
Day 21
Hispanics -- The Future American Dream
The Future of the American Dream is Latino [3-minute read]
Latinos may be the key to future US economic growth, study argues  [3 minute read]
America's Future Is Hispanic. It's Time to Start Treating Us Like We Matter | Opinion  [4 minute read]
Latinos: A powerful force turbocharging small-business growth and driving $700 billion into the US economy [5 minute read]