The Vermont Human Rights Commission is charged with increasing public awareness of Vermont's civil rights laws. It fulfills this mandate by conducting workshops about civil rights laws and the Commission's role in enforcing those laws, by speaking with groups about their rights and responsibilities under those laws, and by responding to inquiries from members of the public.  Many workshops are conducted in conjunction with other public agencies and private organizations. In addition, VHRC staff participate regularly in a number of networks, coalitions, and committees with other public and private entities.
Training
Staff are regularly asked to do trainings throughout the state on fair housing law, accessibility issues, illegal overview,  sexual harassment and bias and implicit bias. The charge for training covers the costs of time, mileage and materials. For more information or to set up a training, please call (802) 828-1625 or email human.rights@vermont.gov. For information about trainings on hazing, harassment and bullying in schools, please contact VSBIT.org.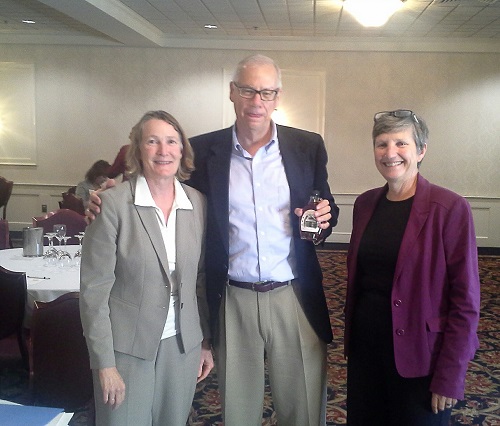 From Left: Karen Richards, Executive Director, and Ellen Maxon, Administrative Law Examiner, stand with Robert Schwemm, at a comprehensive training on updates in Fair Housing Law.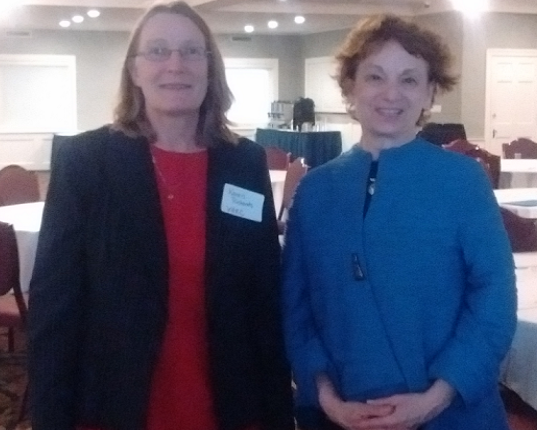 Karen Richards, Executive Director, stands with Kathy Gips at a comprehensive training on Titles I, II and III of the Americans with Disabilities Act.
Upcoming Trainings
Public Forums
PUBLIC MEETINGS TO DISCUSS RACIAL DISPARITIES IN STATE SYSTEMS: The Vermont Human Rights Commission and Vermont Attorney General's Office will hold two public meetings for the purpose of gathering information on how to address racial disparities across State systems in housing, healthcare, labor & employment, community development, and education. 
Monday, November 20, 2017 from 5:30 p.m. to 7:30 p.m. at the Brooks Memorial Library located at 224 Main Street, Brattleboro, VT 05301. Click here for directions.
Tuesday, November 28, 2017 from 6:00 p.m. to 8:00 p.m. at the Fletcher Free Library, Fletcher Room, located at 235 College Street, Burlington, VT 05401. Click here for directions. 
Please call the Human Rights Commission at (802) 828-1625 with any questions or for further information. 
Fair Housing Education
Housing Discrimination video Presented by the Fair Housing Justice Center, Inc.
"A Matter of Place" by Fred Freiberg
Staff Attendance
Staff attend the following regular network/coalition/committee meetings:
ADA Coalition
Vermont Fair Housing Committee
Vermont Dignity in Schools Coalition
Hazing, Harassment and Bullying Advisory Council
 If you are interested in having a member of the Vermont Human Rights Commission conduct a training in your workplace/venue, please contact us at (802) 828-1625 or human.rights@vermont.gov.   The topics we can cover in workshops include:
Fair Housing Issues (service animals, reasonable modifications, reasonable accommodations, harassment, etc.)
Sexual Harassment in the Workplace
The Vermont Human Rights Commission process
Implicit Bias
ADA Requirements for Private Businesses
Service and Assistance Animals